IFCC and Aegis Therapy have enjoyed a successful history of providing complete in and out-patient services.  Our goal for every short stay or long-term care is to help residents regain independence.  Education and instruction programs highlight the residents or outpatient client's recovery.
Physical Therapy
Physical therapists assist patients in moving more comfortably, increasing mobility and in maintaining endurance to resume life activities.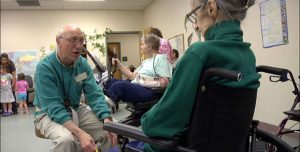 PHYSICAL THERAPY TREATMENTS PROVIDED INCLUDE:
Exercises following Orthopedic Surgery

Help in recovery following a Stroke, Head Injury, or Accident

Rehabilitation for Parkinson's, Multiple Sclerosis, and Arthritis

Treatment for joint, muscle, back or neck pain

Assist with poor balance, weakness or difficulty walking

Education & in-service programs further growth with back care, posture, & balance

Fitting of medical equipment and instruction in their use

Home evaluations

Ergonomic evaluation of workstations and safety
Occupational Therapy
Our occupational therapists are trained to help patients become as functionally independent and as productive as possible.
OCCUPATIONAL THERAPY TREATMENTS INCLUDE:
Education and re-training with activities of daily living skills following surgery or stroke

Home evaluations

Training in the use of adaptive equipment

Strengthening/coordination/muscle reeducation

Improving cognitive skills following a stroke or head injury

Energy conservation training

Fabrication of hand splints

Body mechanics
Speech Therapy
Because communication is critical to daily living, our speech-language pathologists are committed to assisting clients reach their greatest level of potential by:
Improving language abilities following a stroke or brain injury

Improving voice quality and reducing instances of stuttering

Evaluation and treatment of swallowing difficulties

Obtaining communication devices and training in their use

Improving cognitive skills including reading and writing